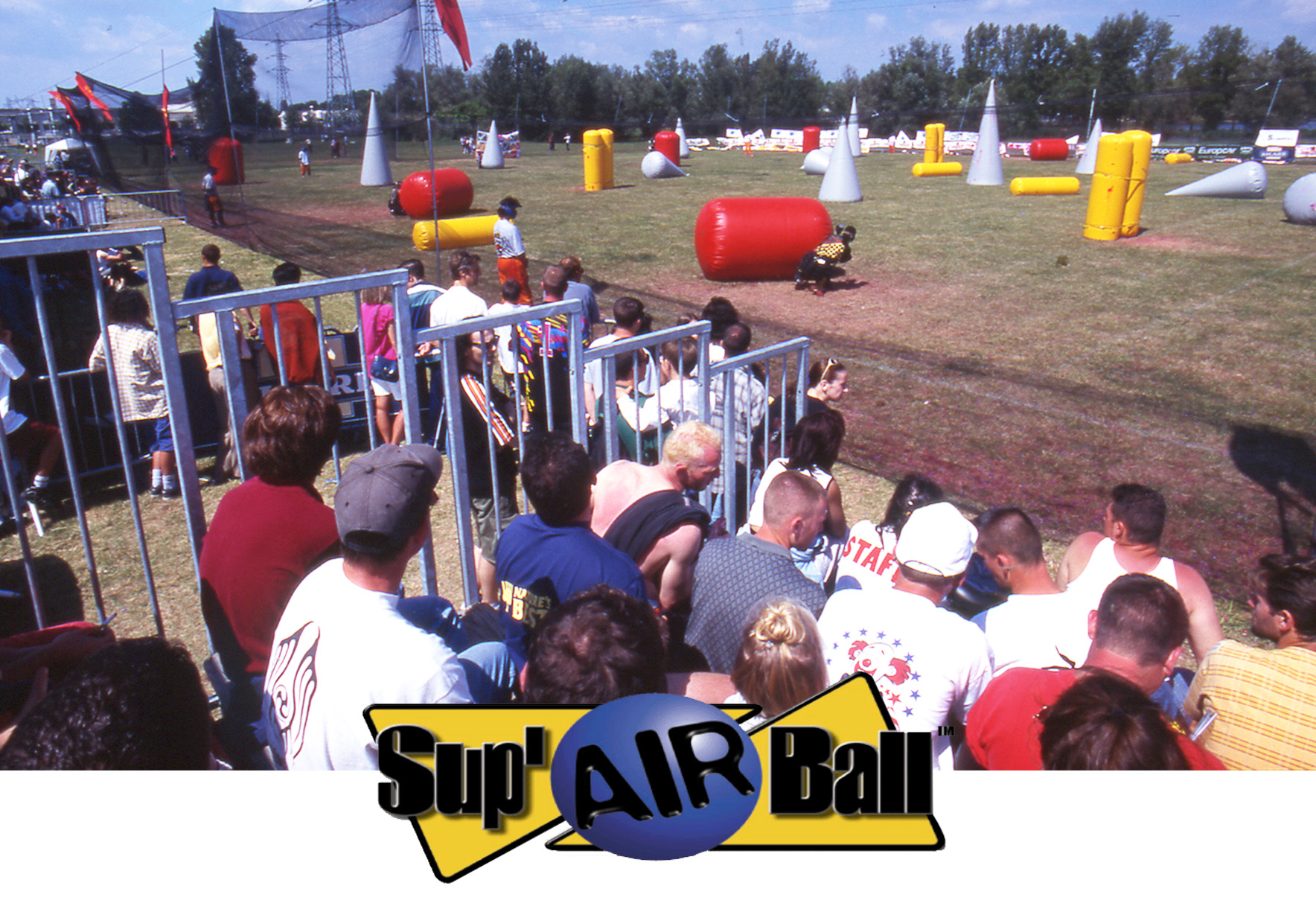 Our story begins in 1996 with the invention of inflatable Paintball bunkers: SUP'AIRBALL™ was created. Inflatable bunkers were airtight bunkers, somewhat like those we use today. They were made of thick tarpaulin, using high frequency soldering and vulcanization.
1997: The SUP'AIRBALL™ fields were first showcased at the 7MAN WORLD CUP in Toulouse, in July and at the World Cup in Orlando, few months after.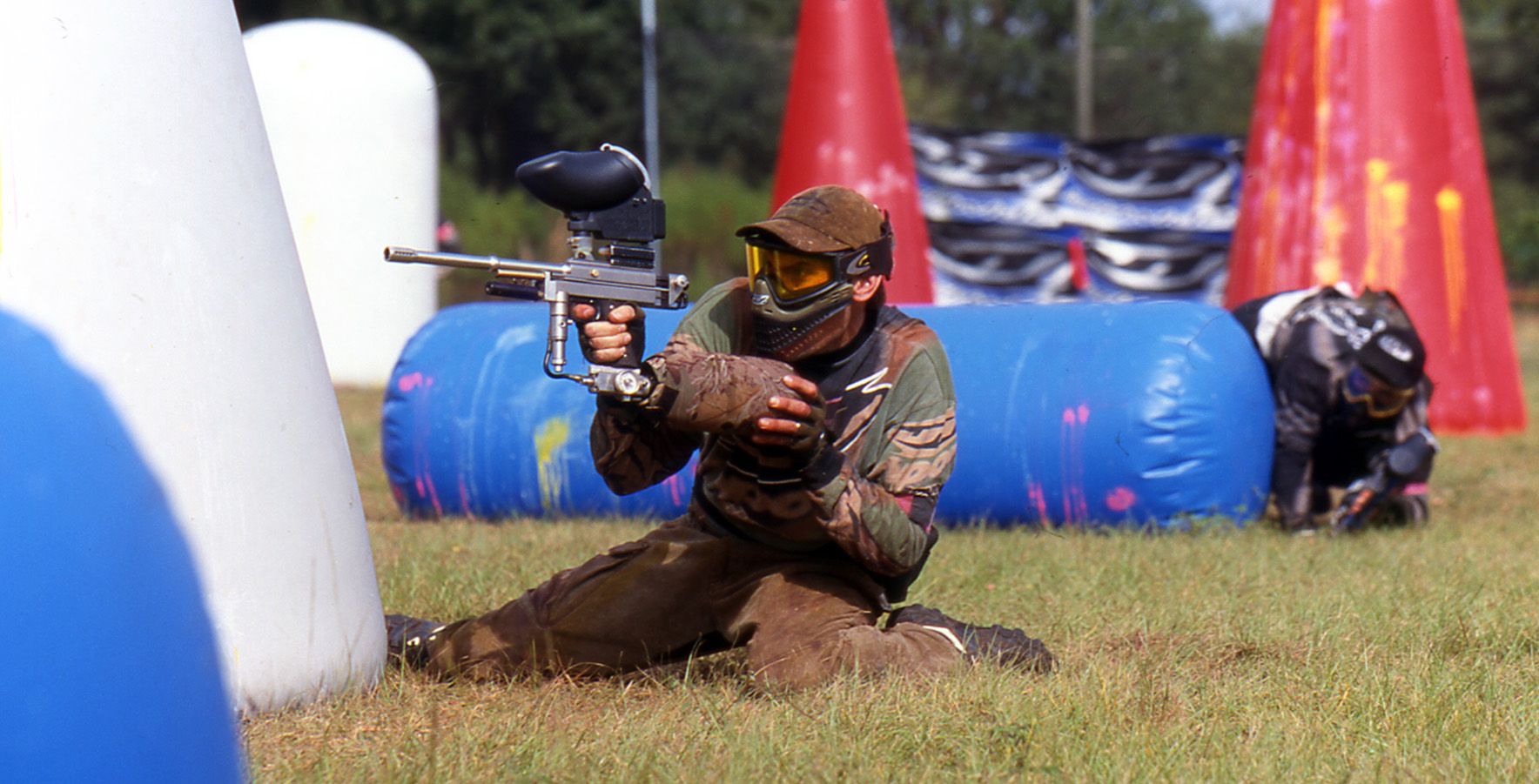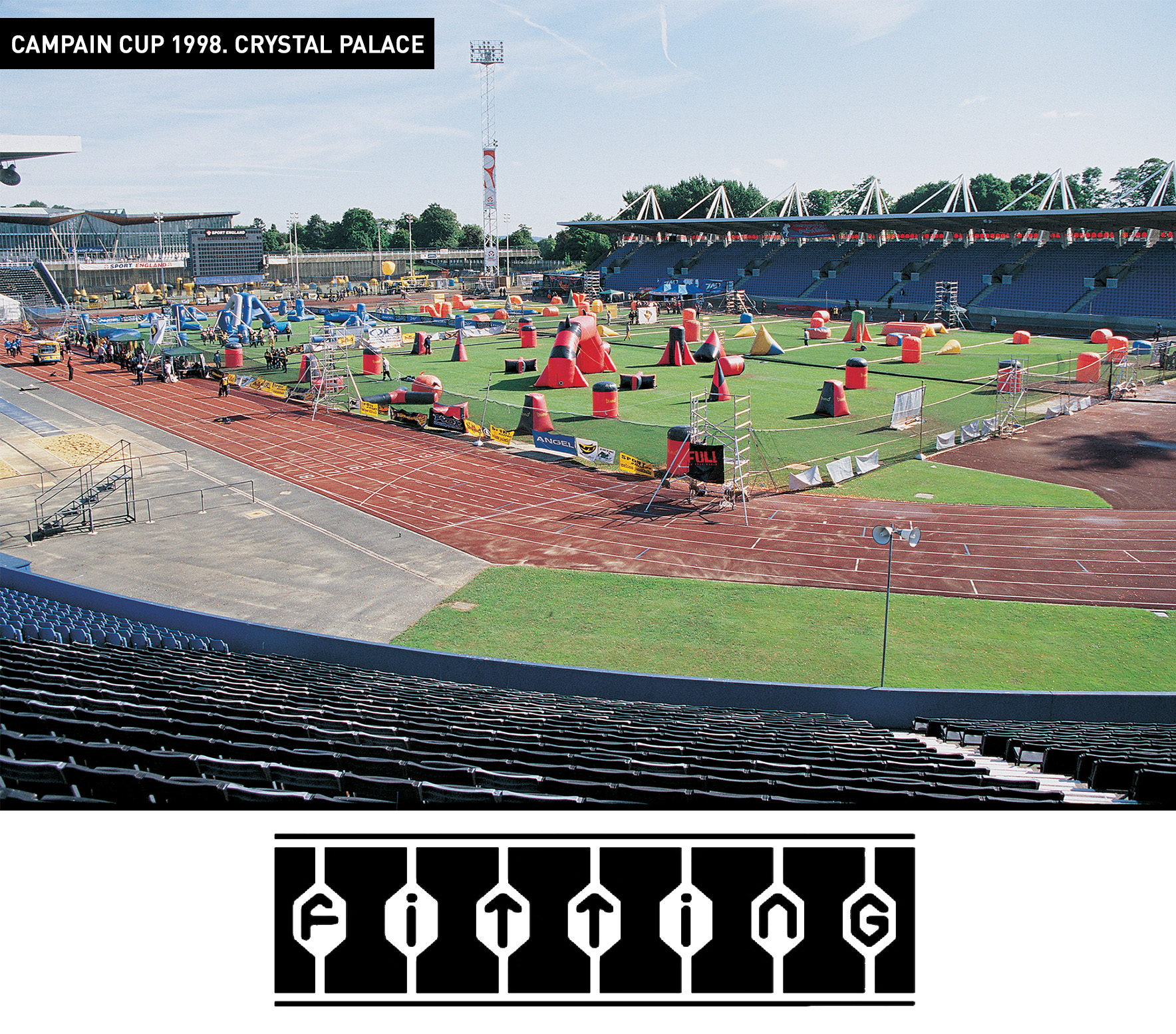 1998: Invention of ventilated structures called FITTING
After several tests, The SUP'AIRBALL™ bunkers were added tie-downs with bungees to anchor them to the ground and increase their stability. Convinced that the combination of tie-downs and free weight was the solution, SUP'AIRBALL™ added underneath pockets to allow not only water but any kind of weights being placed under the bunkers. Those bunkers were showcased at the 1998 7MAN WORLD CUP in Toulouse. 2 months after, at the Campaign Cup in England, another system was launched with a permanent air flow going through all the bunkers, called "Fitting". That air flow allowed to use a lighted fabric and made it easier and lighter to move for tournament/league operators. The big debut was made the following month at the World Cup in Orlando, with an astonishing success.
One of the great innovations was even ripped or pierced by careless players, the structures would still stand up. The tubing system around the field delivering the continuous flow was also the boundaries of that field, making it easy for the players and the referees to see who was in or out.
With those 2 technologies (Airtight and Fitting), ADRENALINE GAMES was able to supply all needs for Inflatable Paintball Fields.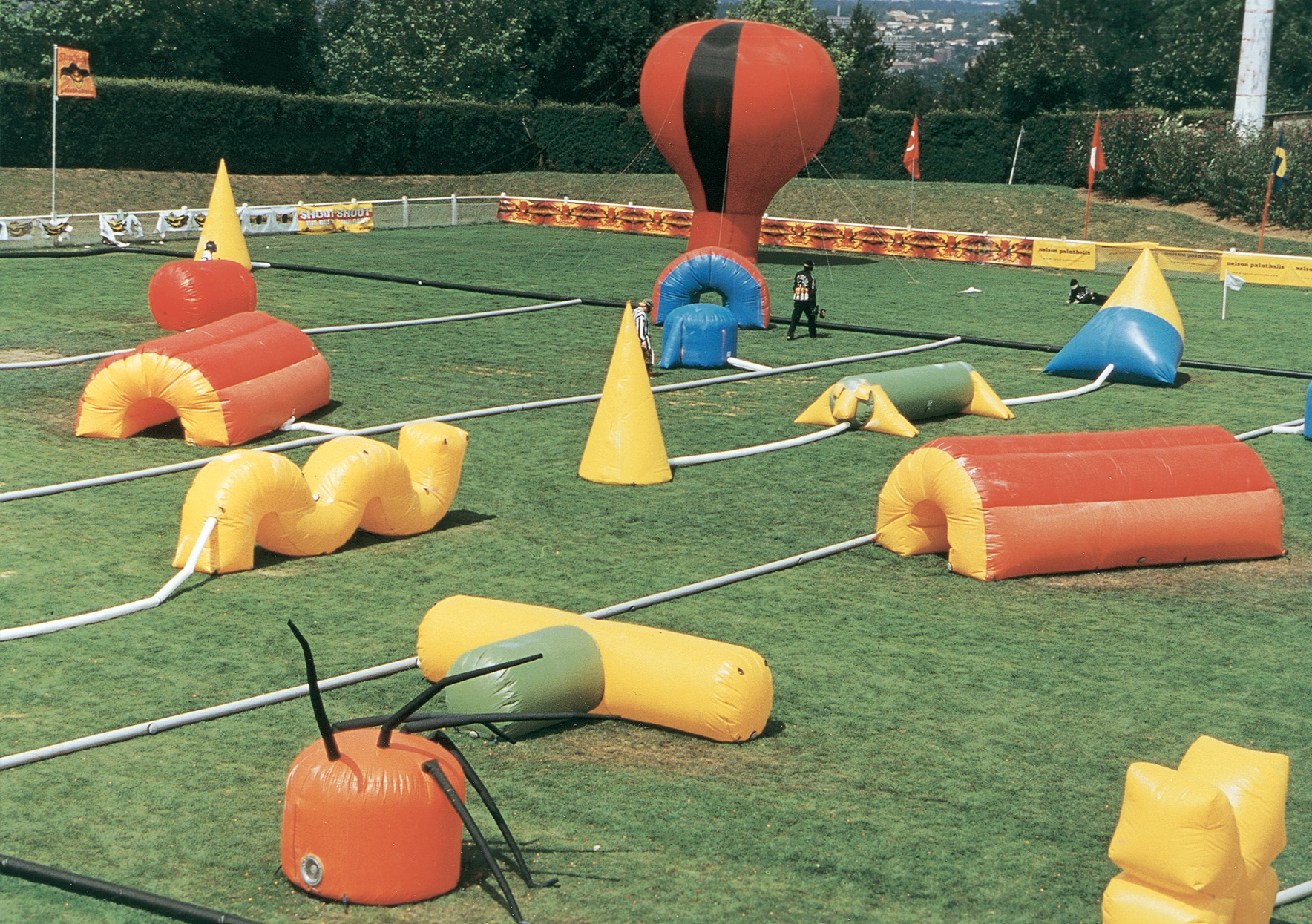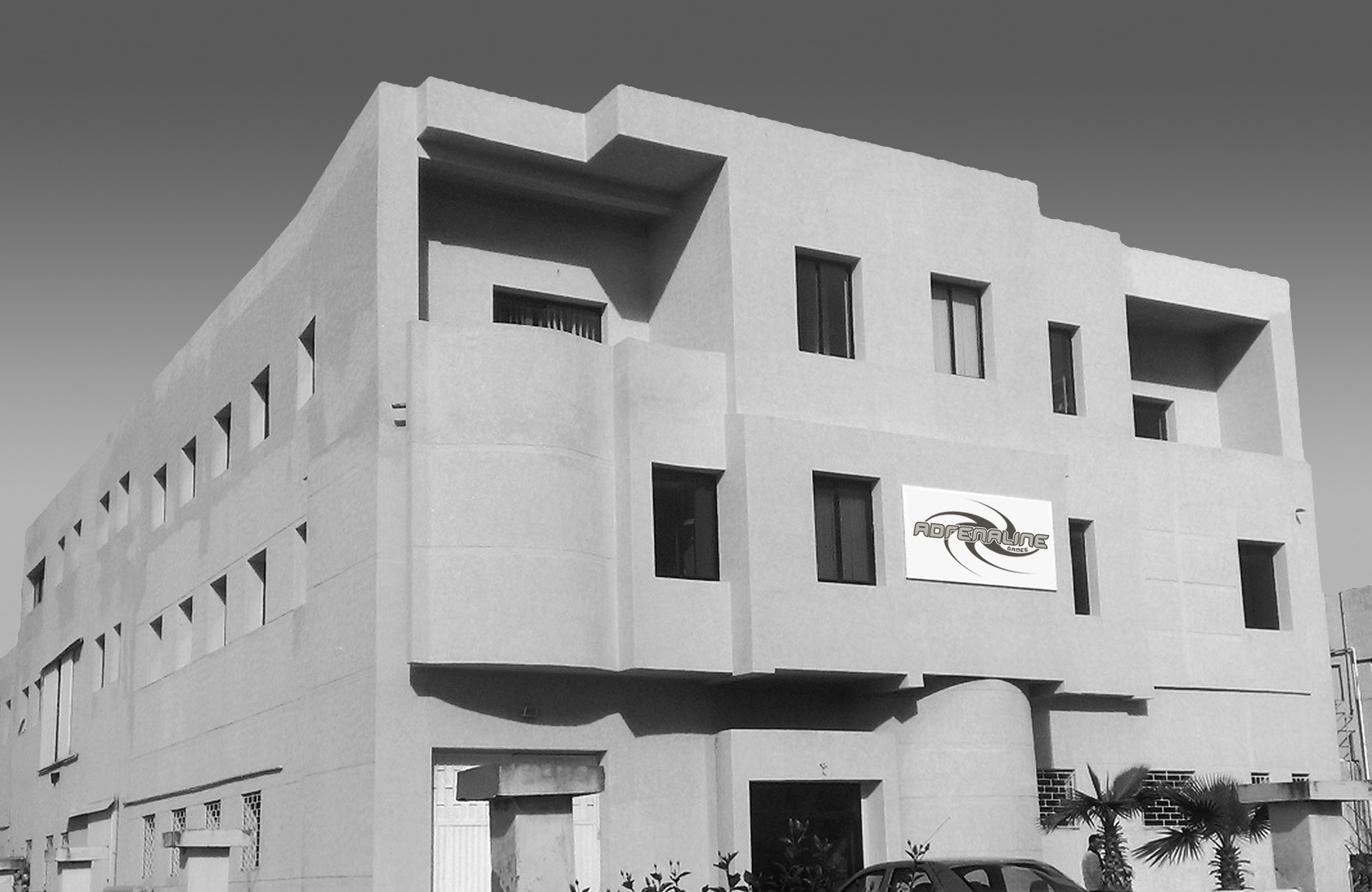 2000: Foundation of ADRENALINE GAMES.
ADRENALINE GAMES was founded in october 2000 and establish his production facility in Tanger (Morocco).

2001: FACEFULL MAGAZINE was launched
ADRENALINE EDITION was created in Paris to become with FACEFULL and later JUNGLE Magazine the first worldwide paintball magasine which change the image of paintball into a beautiful, artistic and prestigious sport.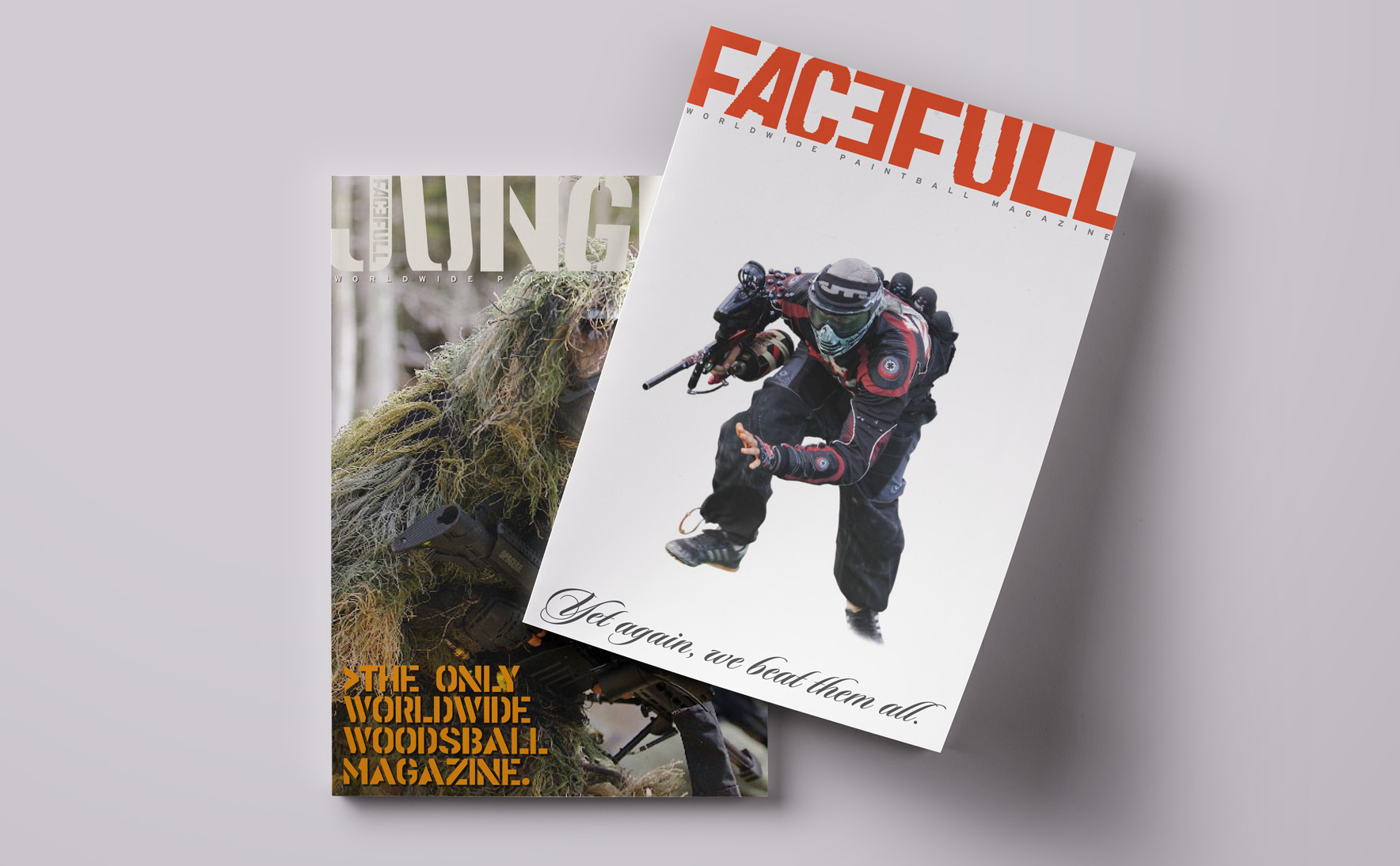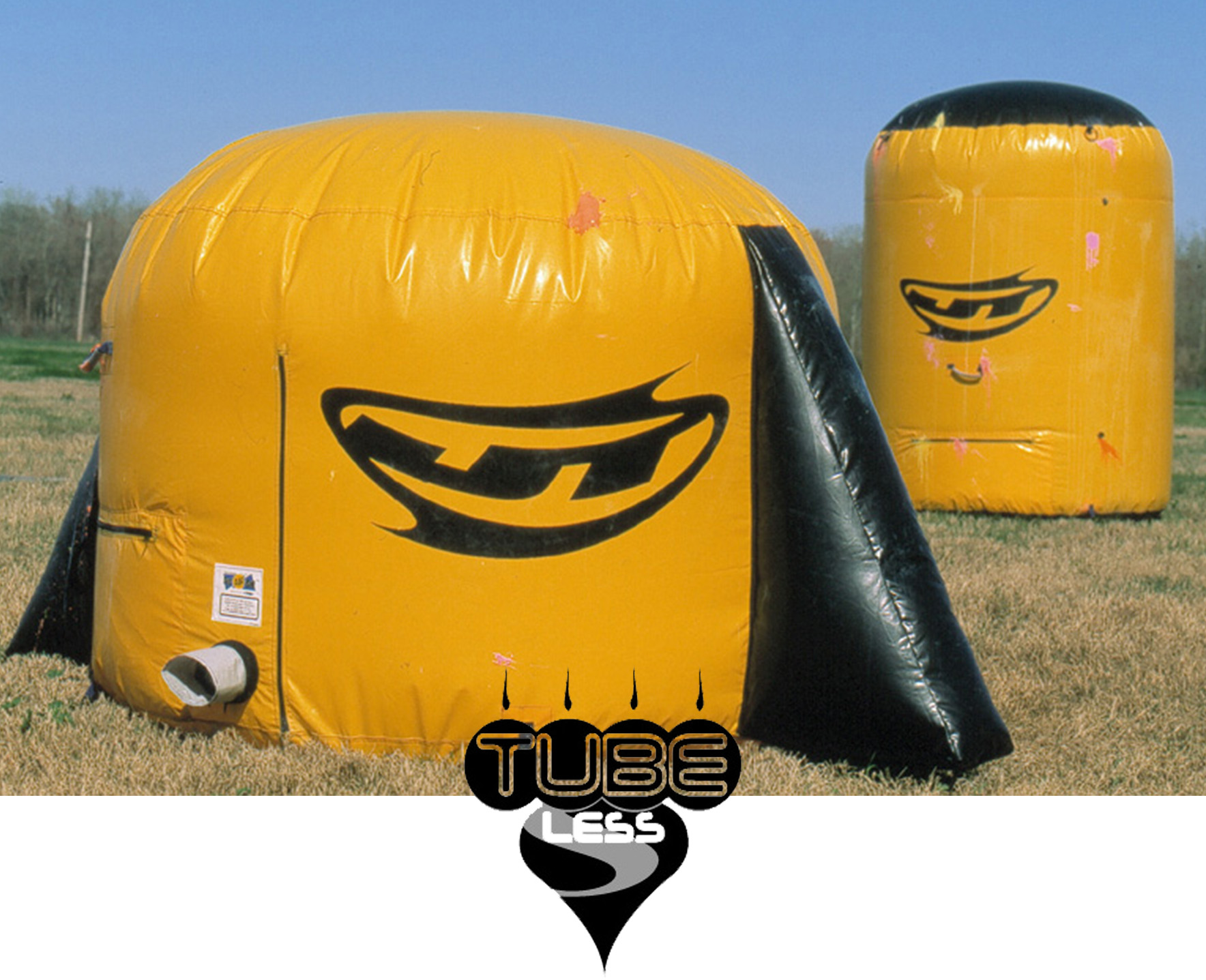 2001: TUBELESS
In 2001 two new products were launched: The Leisure Kit and the Tubeless Kit.
The Leisure Kit was designed to offer a more affordable product, available to every site and every team wanting to train on SUP'AIRBALL™ .
The concept of this kit also enables the obstacles to be adapted to the space available.
The Tubeless Kit is a new variant on the inflatable field. There are no more tubes. The obstacle is constantly filled with air via a mini fan. Set-up is easier, and the kit can be used anywhere, thanks to its 26-hour autonomy.
2002: PAINTCHECK & XTREM'AIR
In 2002, PAINTCHECK, the first Paintball board game was launched along with the GREEDYGUTS.
In order to respond to all the needs of field operators, ADRENALINE GAMES launched The SUP'AIRBALL™ and XTREM'AIR™. A stronger Airtight bunker made by vulcanisation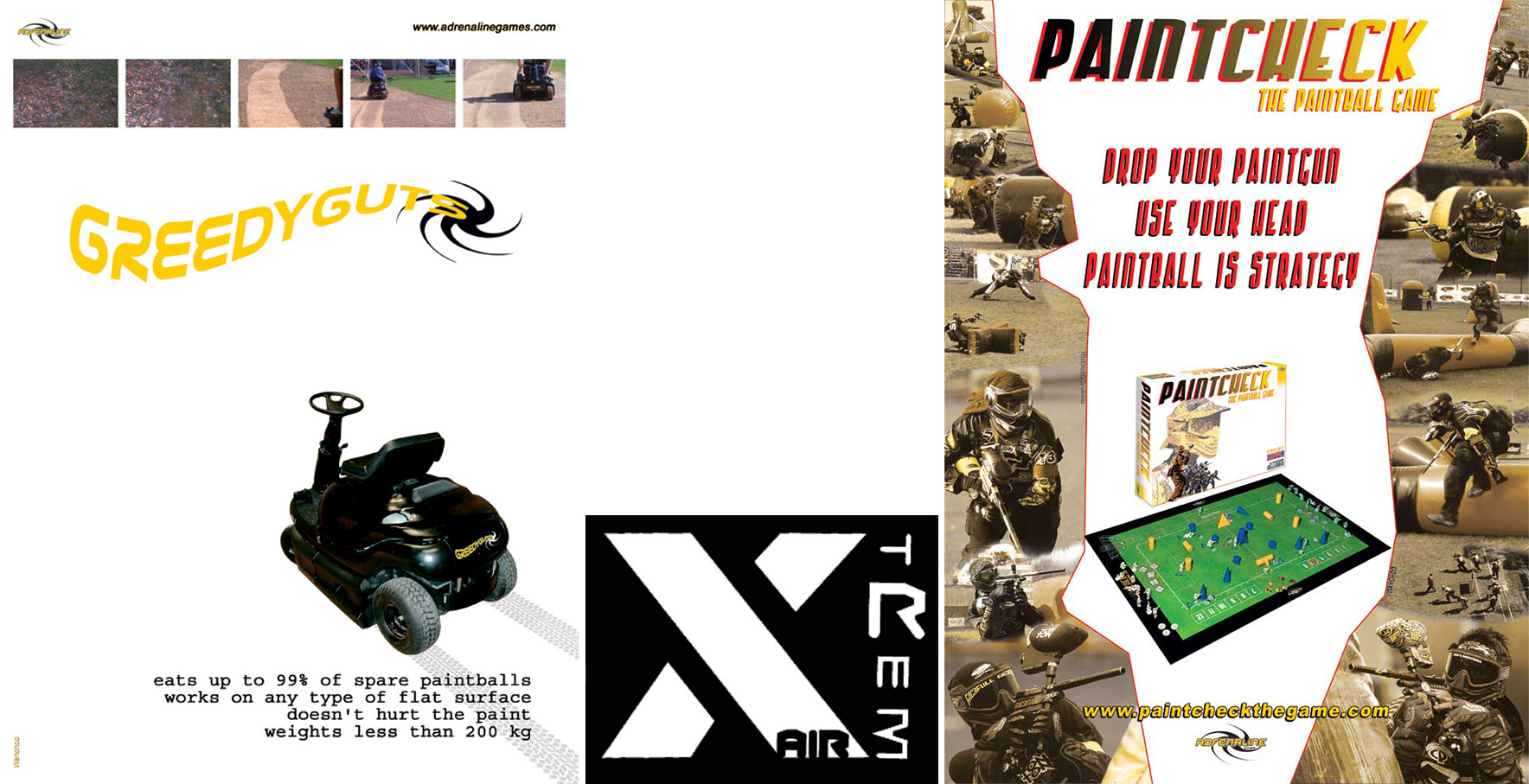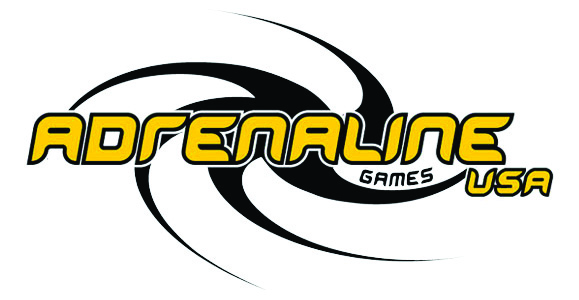 2003: ADRENALINE GAMES USA
Creation of ADRENALINE GAMES USA INC, in the state of Pensylvannia (USA).
2004: DIGITAL PRINTING
In 2004, Digital printing was launched.
Because the obstacles are a highly visual platform that can be sold as advertising space to sponsors seeking to promote their brand, in addition to screen printing (available since 1997), numeric printing was added as an option in 2004, allowing full color images to be used.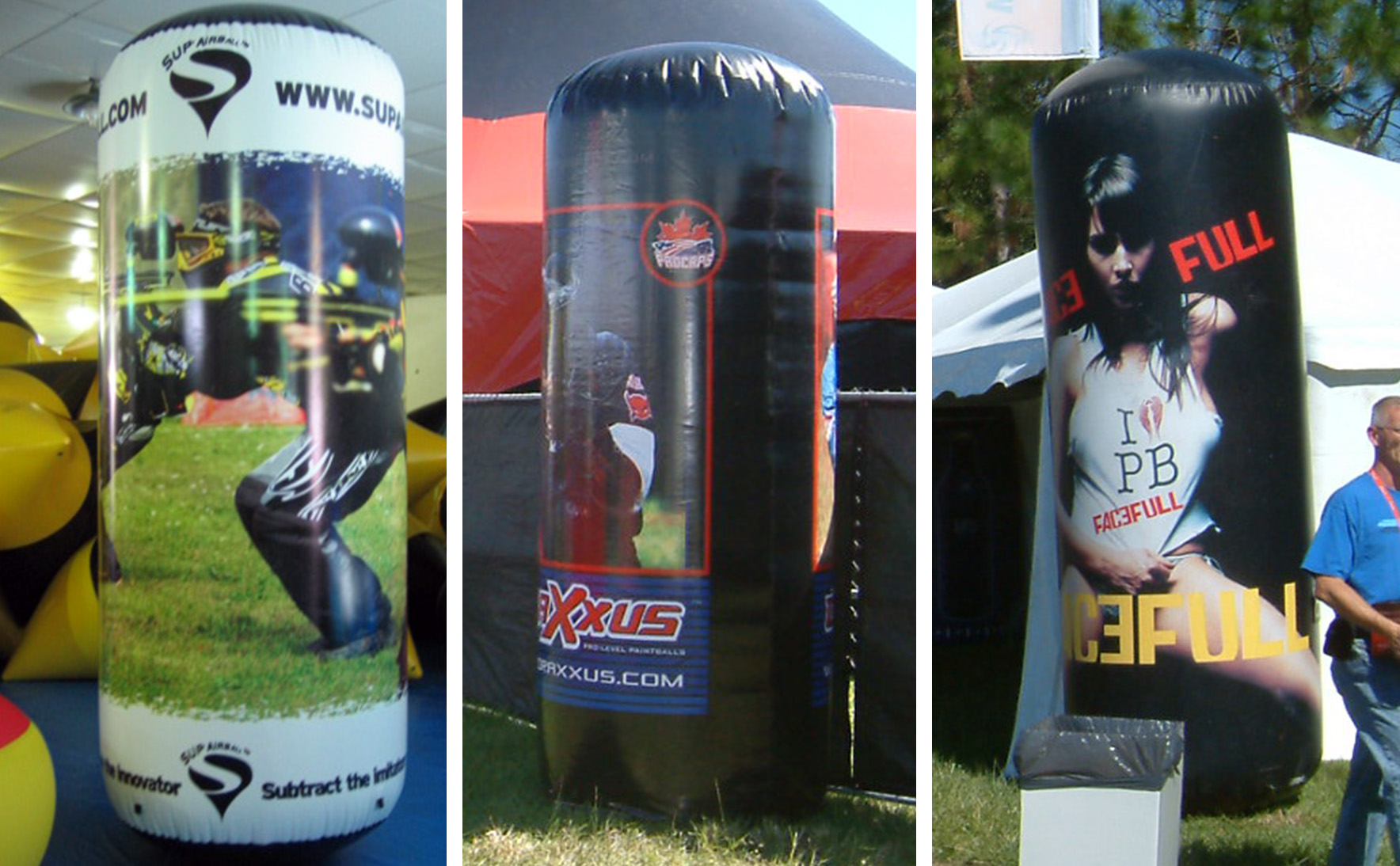 2005: TARGET CAGE & TRAINING CAGE
Design to help players to train in their backyard.
2006: TRAINING BUNKERS & STAND ALONE OPTION
In 2006, SUP'AIRBALL™ released a new product, the Recreational Inflatable Paintball Bunker. Through Extreme Rage "Inflatafield", then Spyder "Performance Paintball Bunkers" and the "Tournament Paintball Training Bunkers", SUP'AIRBALL™ released its own line of Recreational bunkers. With large bunkers for less than $70 each, everyone can practice at an affordable price. First stand alone bunkers with side pocket were introduced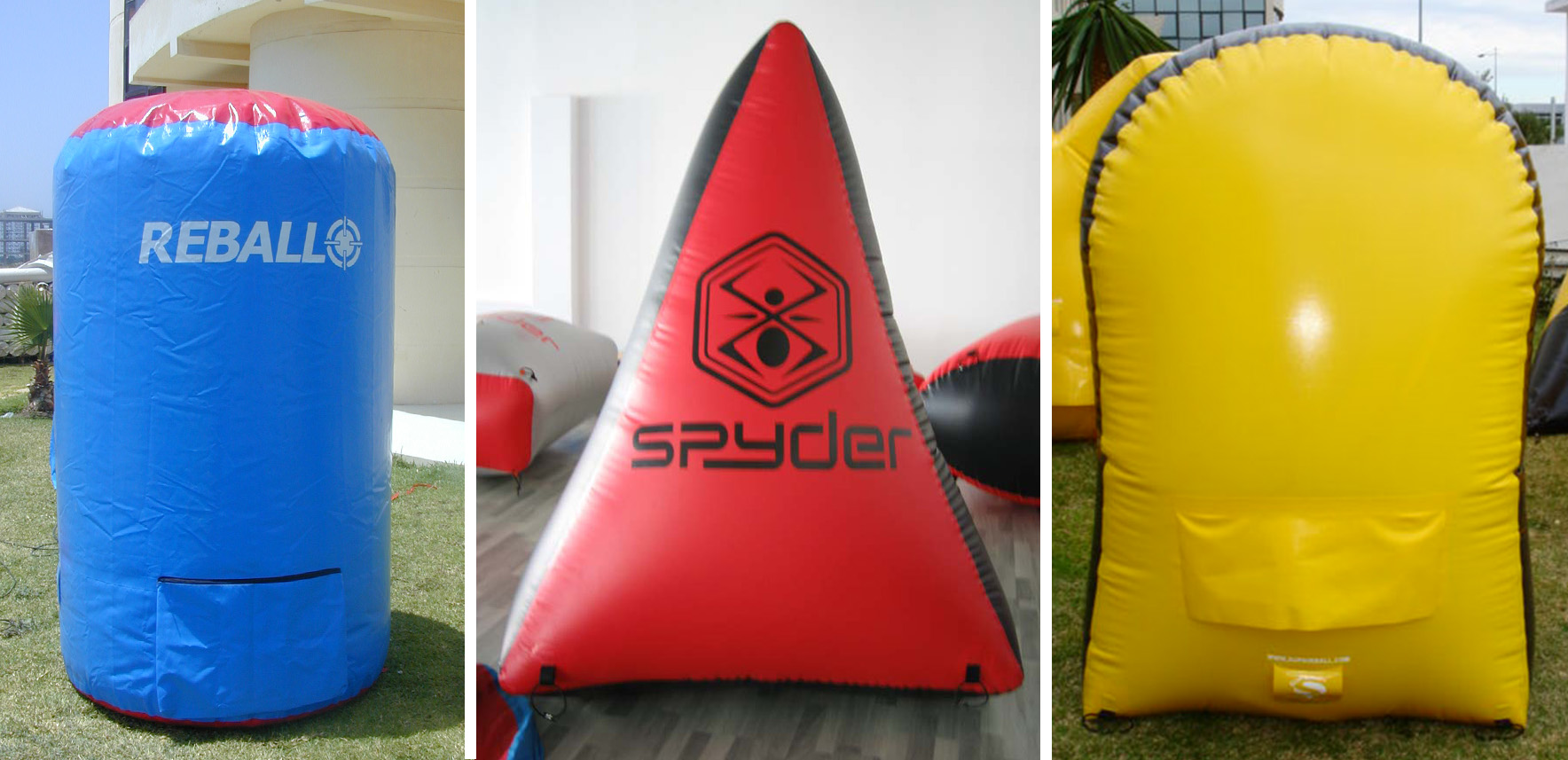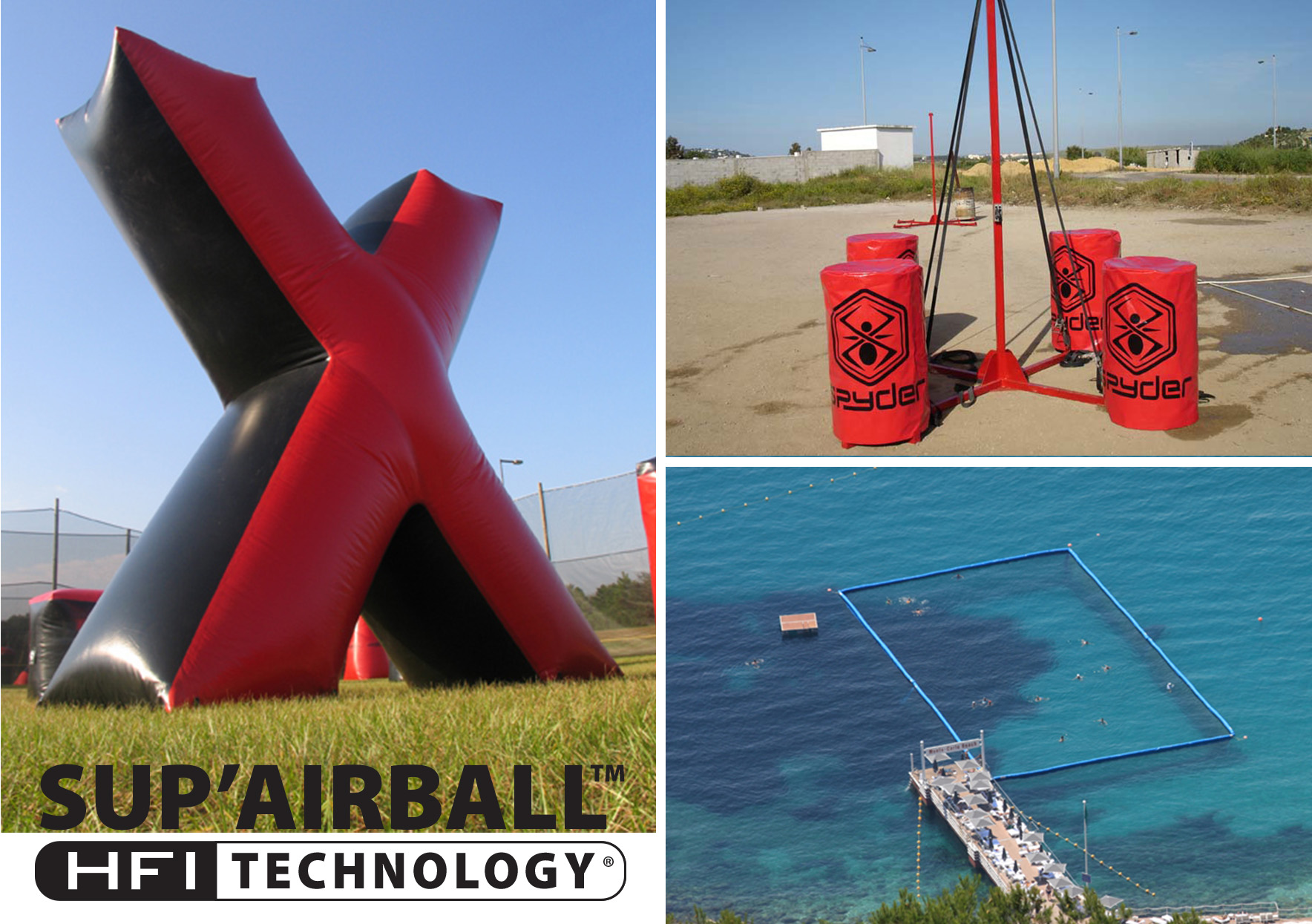 2007: NETTING4PAINTBALL, OIL BOOM, JELLY FISH CONTROL BOOM & HFI TECHNOLOGY
In 2007, Oil Boom and Jelly Fish Control Boom were launch. NETTING4PAINTBALL was introduced. Pro paintball netting with a mobile pole system called PROTECHBALL. Furthermore SUP'AIRBALL™ introduces its new HFI technology. Stronger bunkers at a cheaper price would sum it perfectly. SUP'AIRBALL™ will keep its 2 lines of products : Training Series and Tournament Series. The first one, for everyday practice and affordable price and the second one for leagues, commercial use or dedicated teams and still at an affordable price.
2008: PRO SERIES
In 2008, SUP'AIRBALL™ introduced the Pro Series. Our new, top notch, heavy duty field.
Almost everything has been upgraded, from the tie-downs to the valves, re-positioned seams to move them from the most common shooting lanes, and we added our new and redesigned Stand Alone System that allows you to use your Pro Series bunkers without staking them down.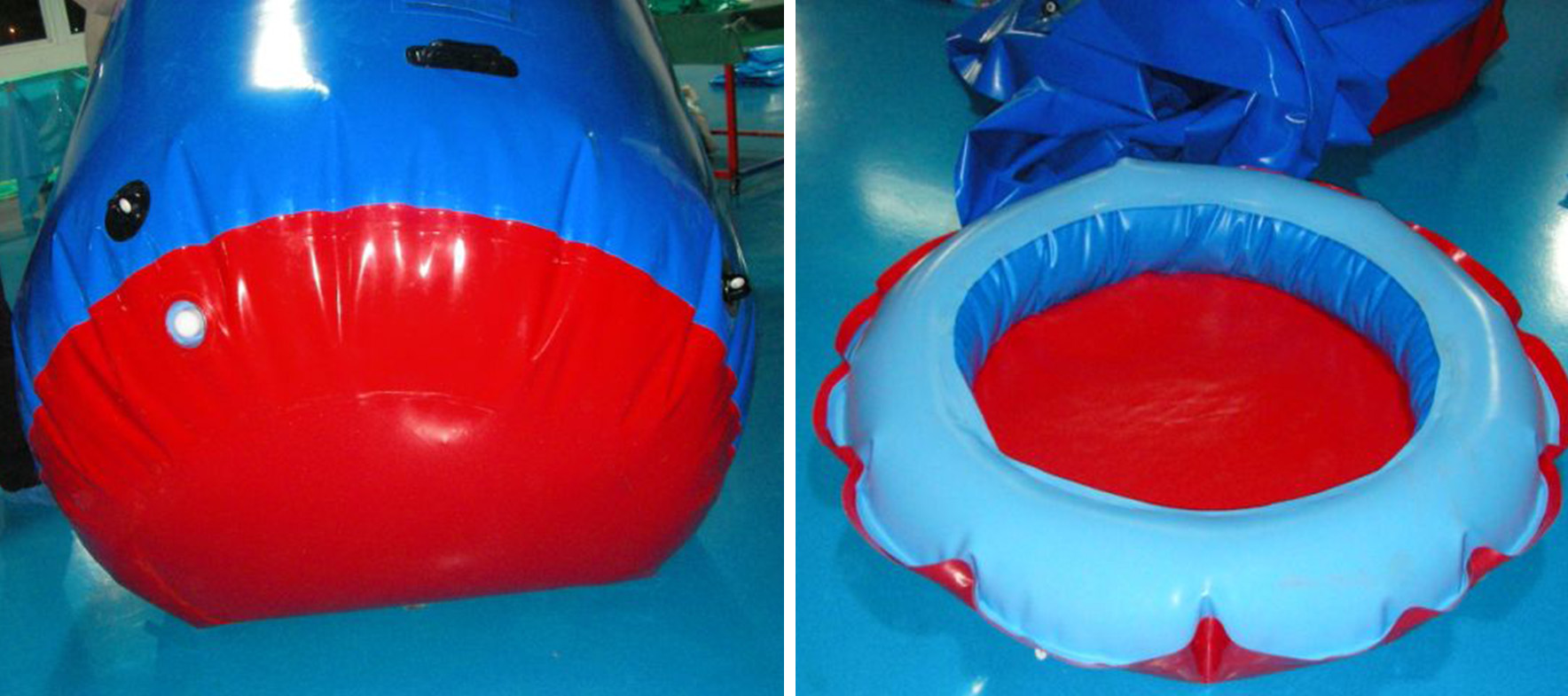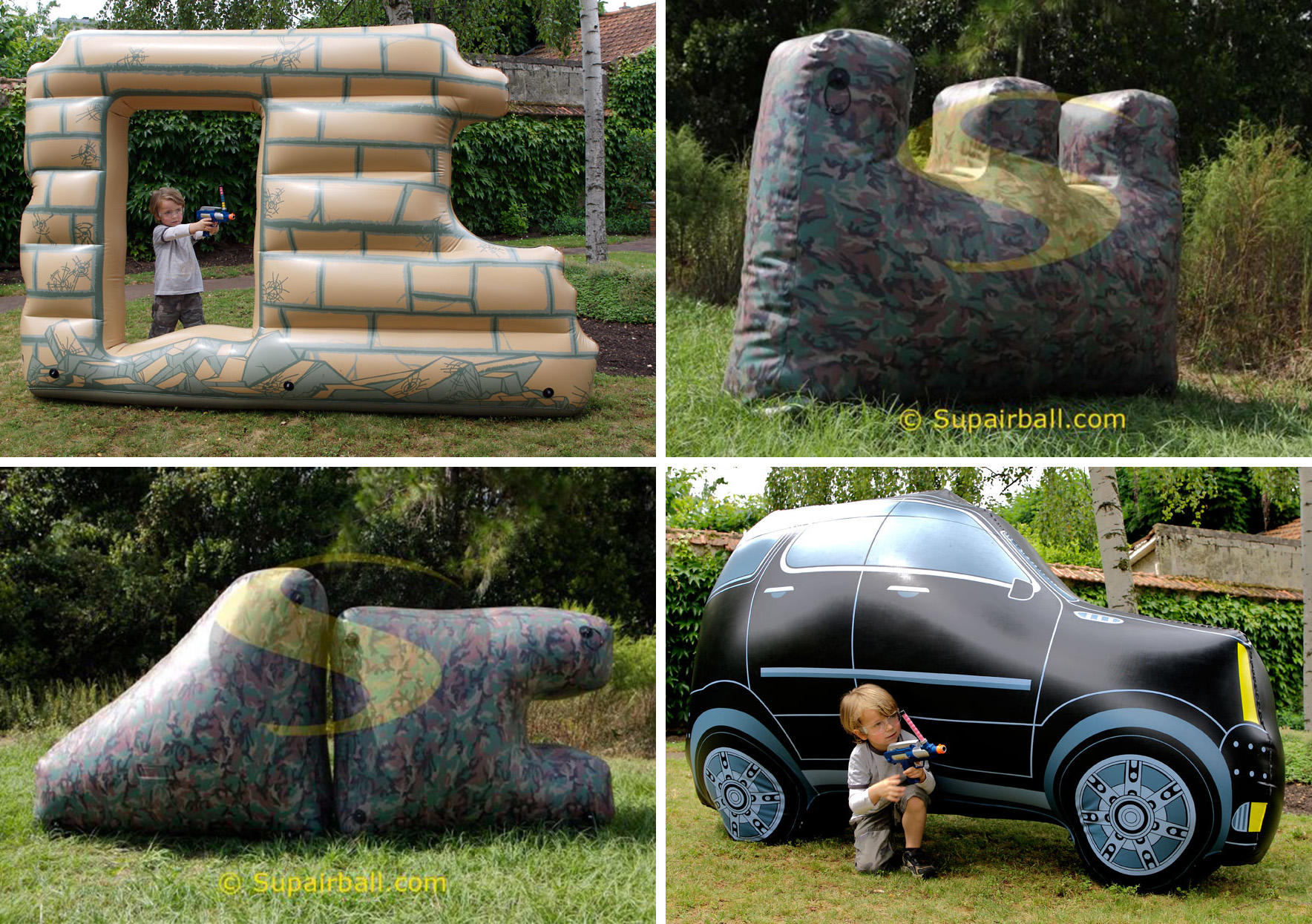 2009: JUNGLE, URBAN & KIDS SERIES
In 2009, to answer to the demand of our customers, SUP'AIRBALL™ released 3 new lines of products: the Jungle, Urban and Kids Series. Each dedicated to a specific type of game, with great artworks and cool shapes.
2011: TENTS
Made for the Army & Firefighters, the product has been develop for advertising as well.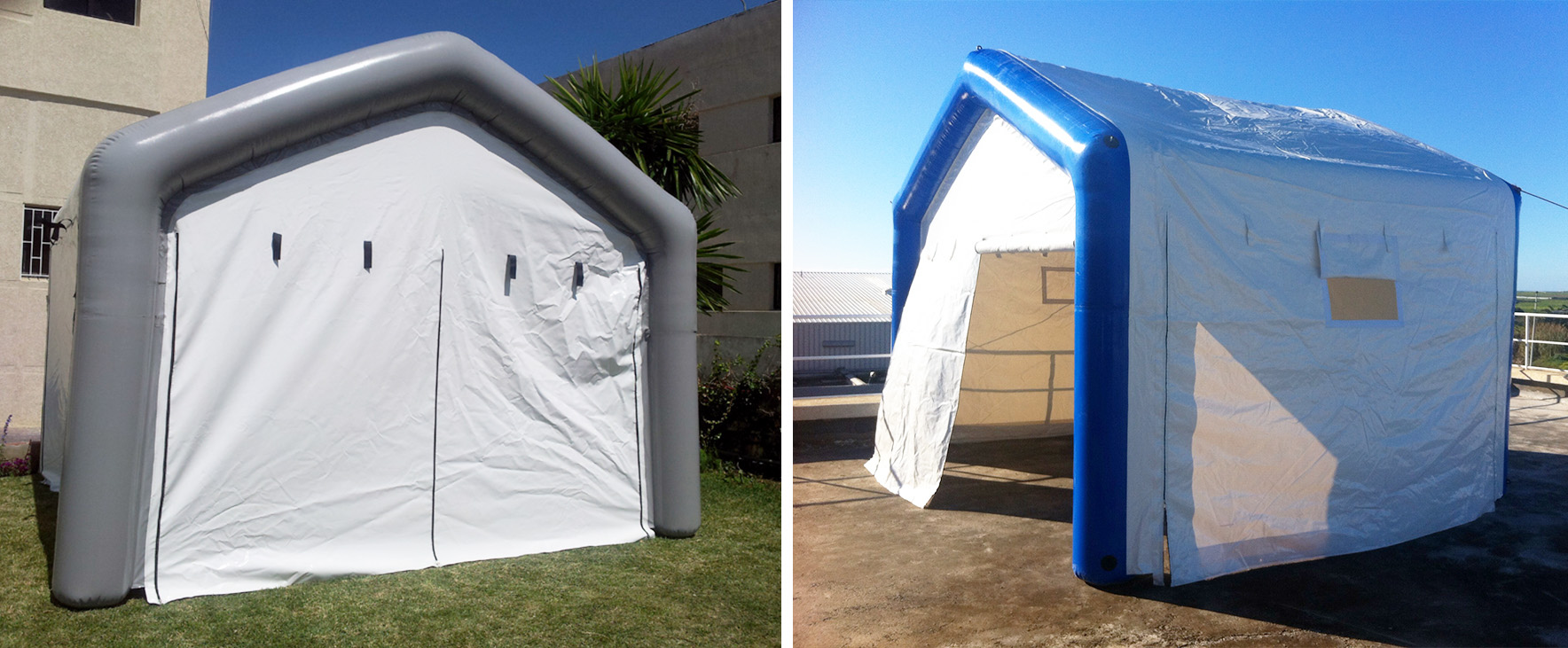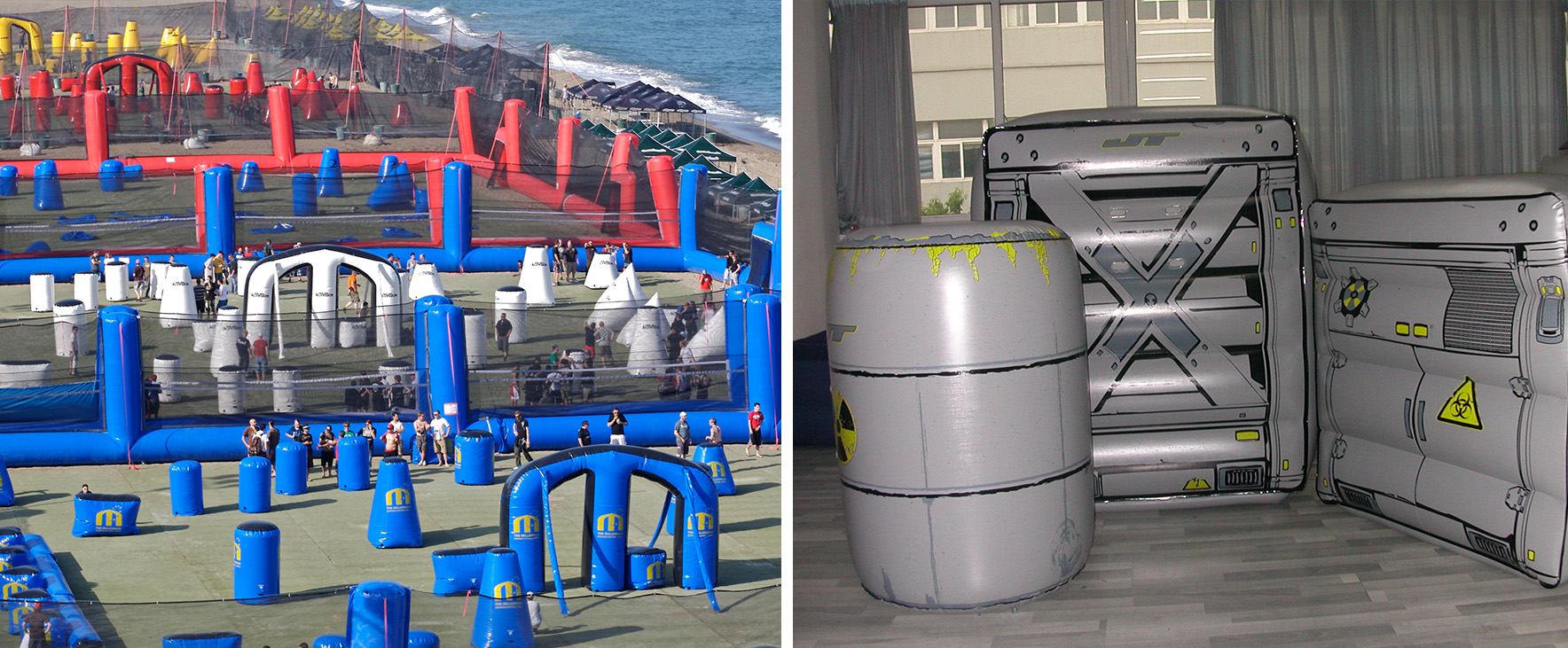 2012: ARENAS & METAL CRATE
A portable inflatable netting solution was launch in Spain, Malaysia and USA. METAL CRATE was introduced for Kids through SUP'AIRBALL™ and JT Splatmaster.
2013: TACTICALL SERIES & CHRONO STATION
In 2013, The Tactical series has been launched.
A product made of our thickest fabric with a revolutionnary printing process: The camo pattern is printed within the fabric for a virtually scratch free and fade resistant design.
The Tactical bunkers can be connected to one another with a Quick Connect System, for fast assembly and modularity, or be self-standing.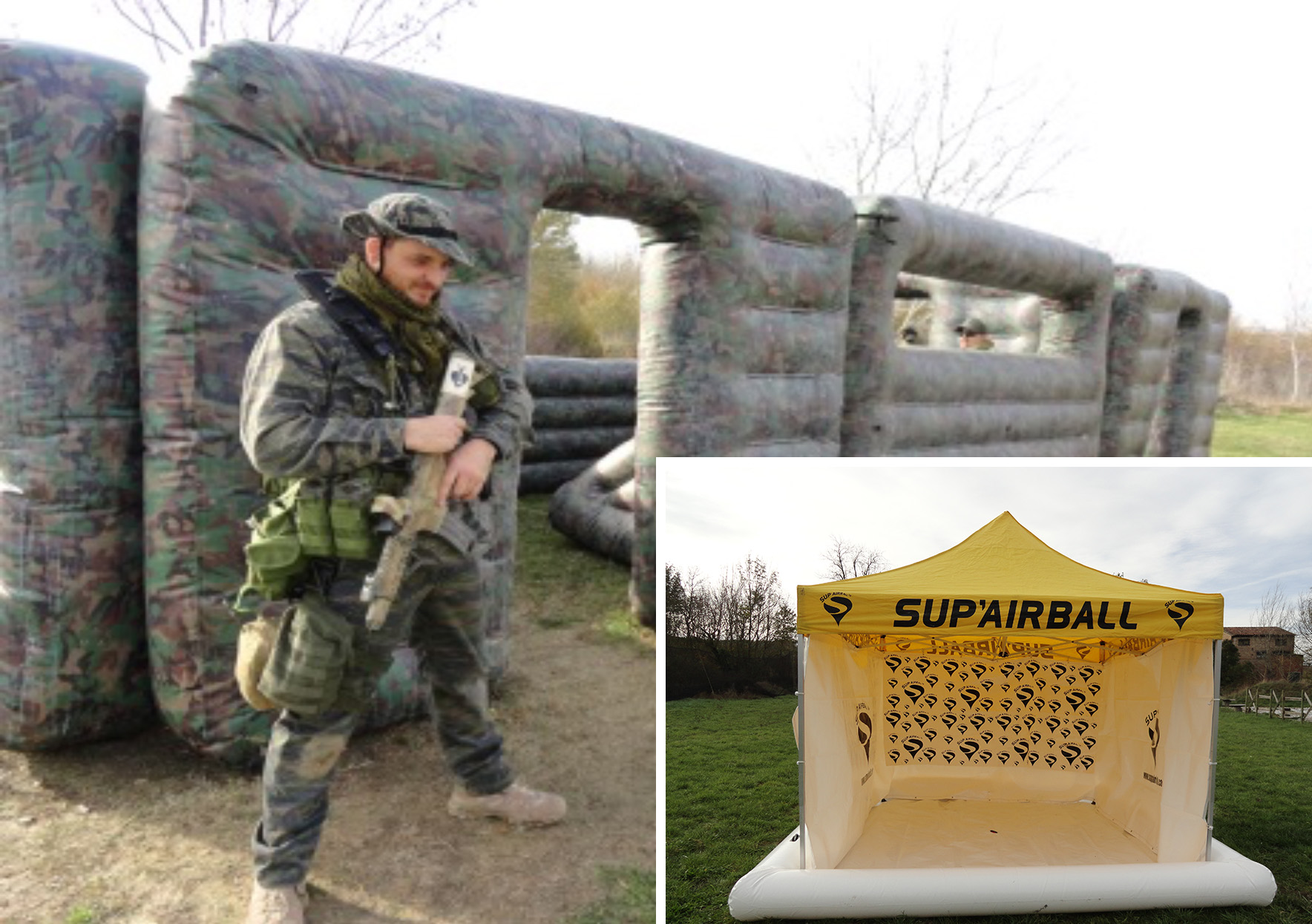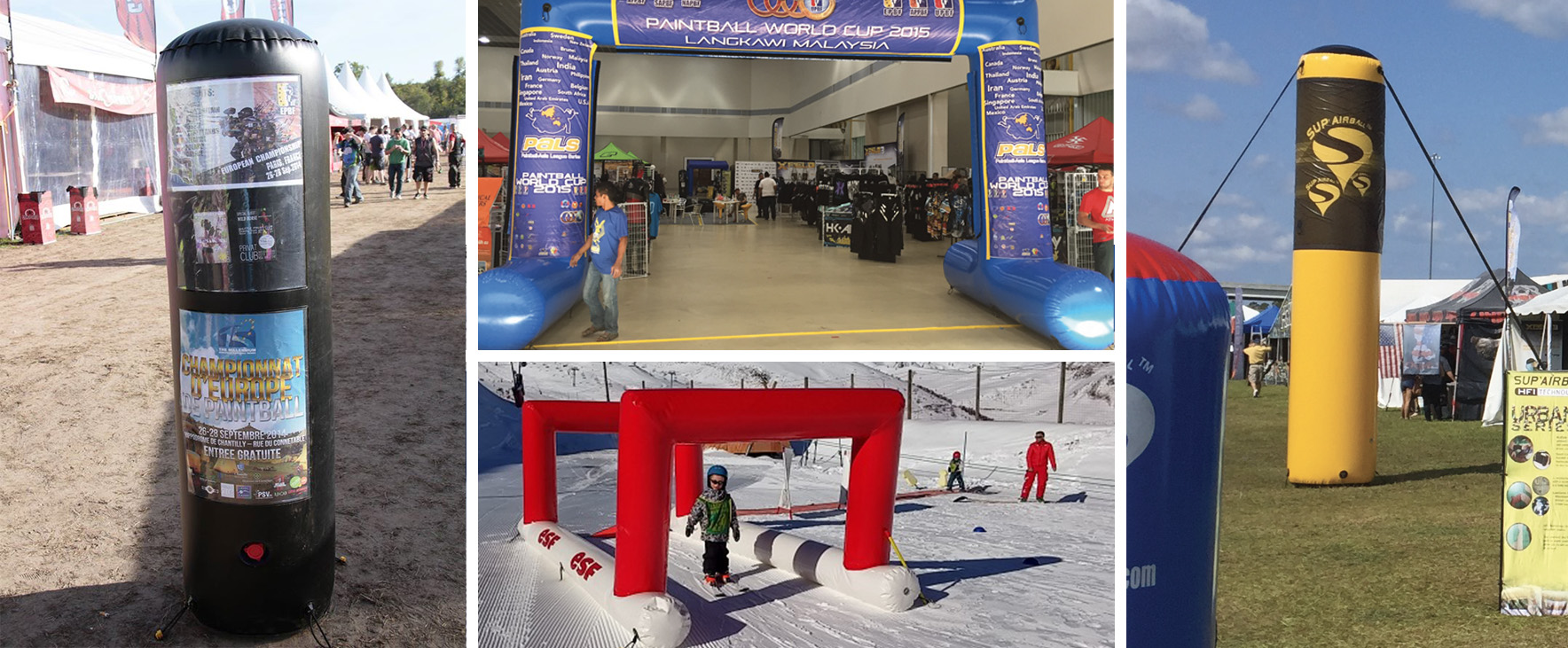 2014: ARCHES, TOTEMS & SPORTS PRODUCTS
In 2014, SUP'AIRTOTEMS was released along with advertising inflatables products such as Arches. Inflatable sports products for Ski, Moto Cross, Go Cart, Football were launched as well.
2015: HD (HEAVY DUTY)
In 2015, SUP'AIRBALL™ released The HD (Heavy Duty) product line.
The Heavy-Duty Series features stronger fabric (25oz) with reinforced welding. Re-engineered, Heavy-Duty tie downs. Reinforced valve covers to help protect against direct shots.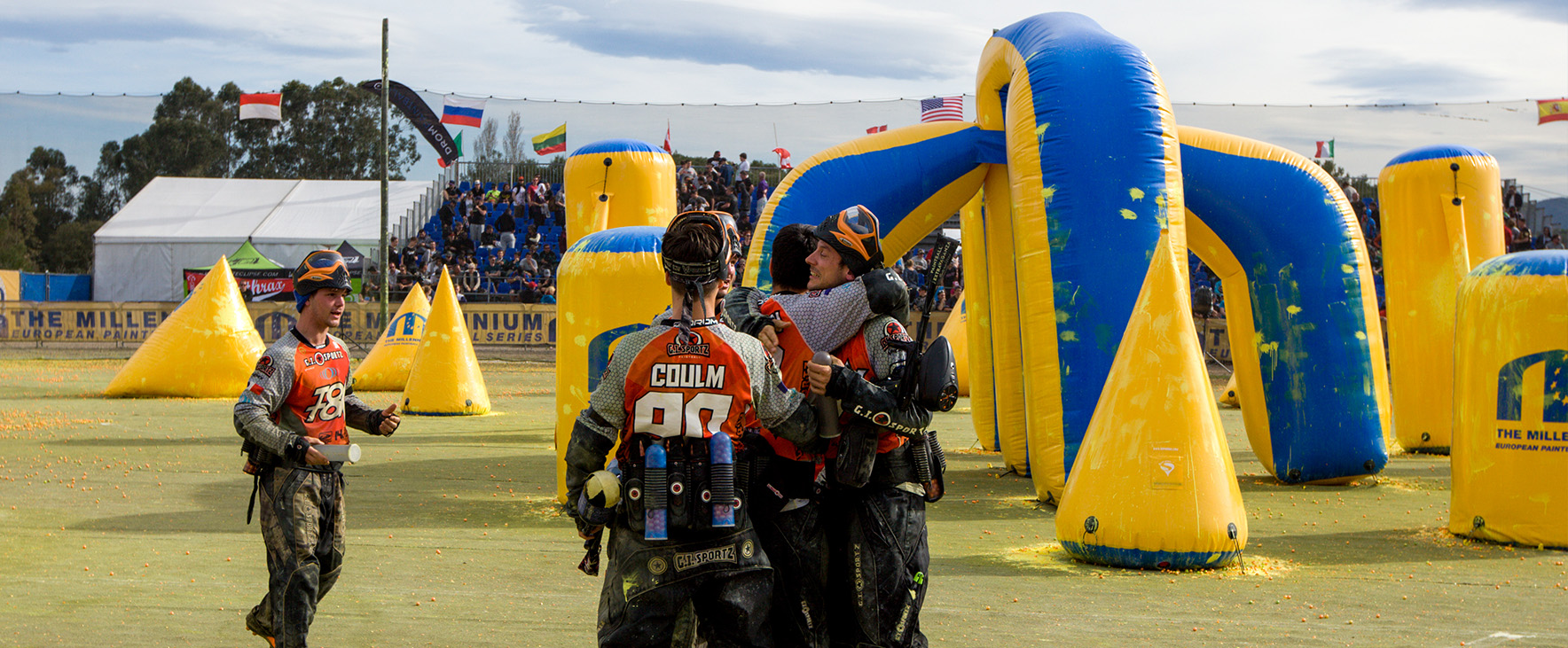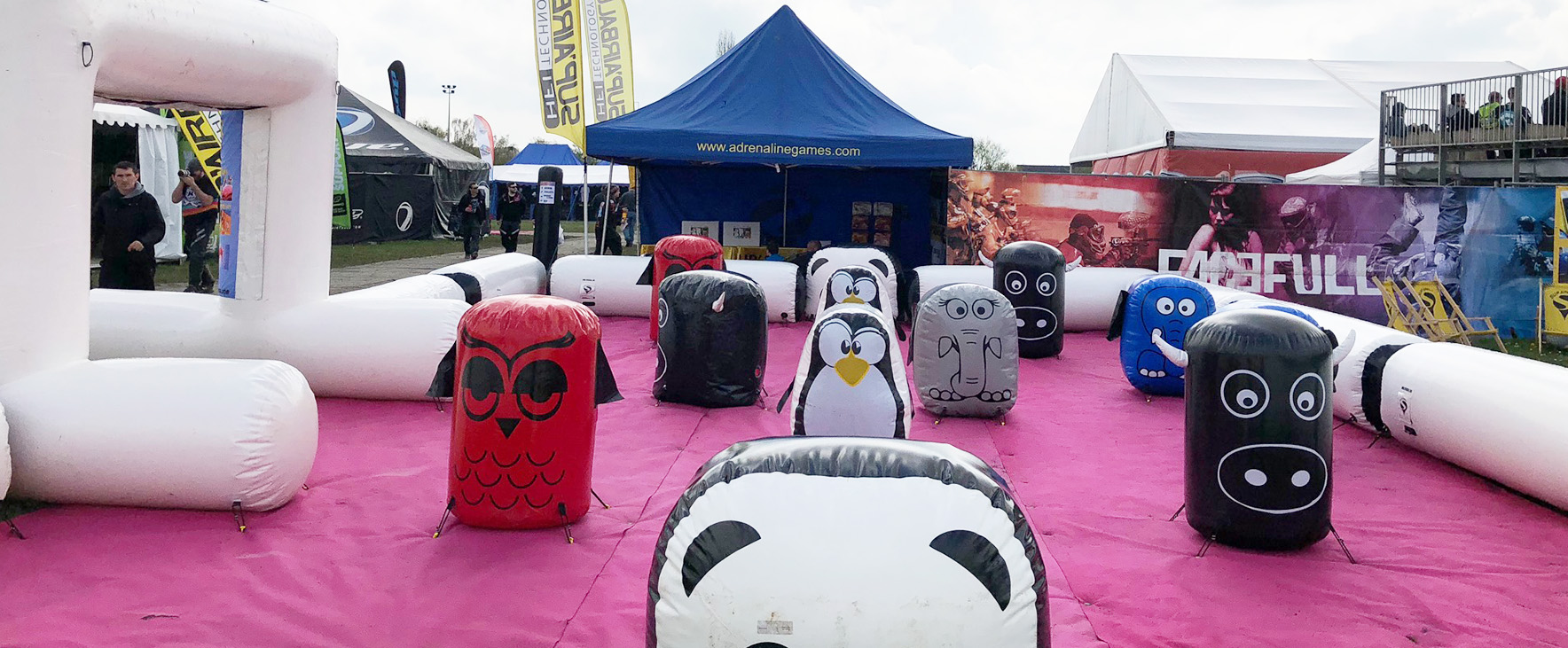 2016: ANIMAL KIDS SERIES
In 2016, the Animal Kids series is launched along with the IPS (Interactive Play System).
A new inflatable kids concept with a huge variety of games on the same field: Paintball, Watergun, Bazouka Ball, Nerf, Laser Tag, IPS…
2018: TACTICAL WALLS
In 2018, Tactical Walls dedicated to Law enforcement & Military, Paintball, Air soft, Laser are launched.
Made with our Heavy Duty fabric (25oz), protected with a 22oz fabric.
 Its double protection gives it an unequaled resistance and most importantly, it only needs one inflation per week.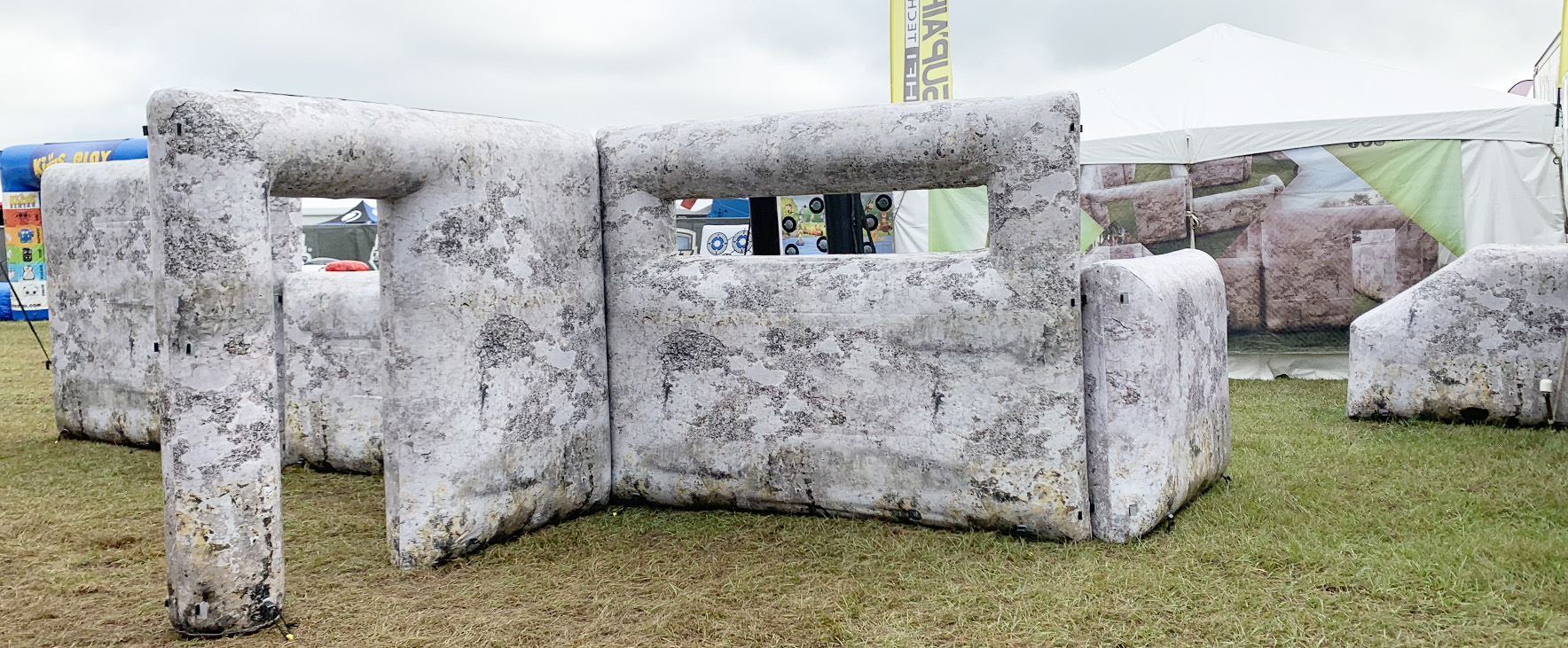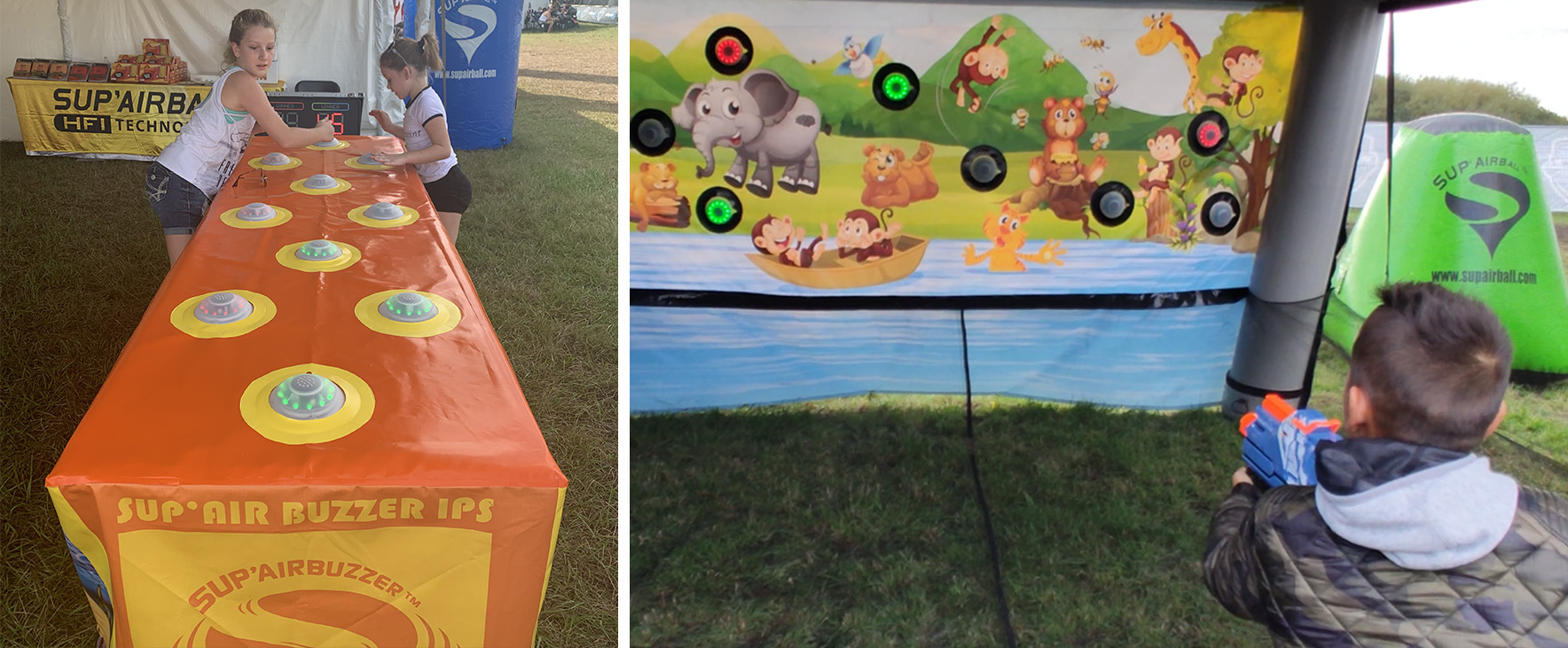 2019: IPS (INTERACTIVE PLAYING SYSTEM)
In 2019, IPS HIT (Interactive Play System) is released along with Archery walls, Target shooting cage, Tablecovers…
2020: CITY OF GOLD, CAGES & NAUTIC GATE
In 2020, SUP'AIRBALL™ introduced the CITY OF GOLD field for Kids & Teenagers and the CAGE, a mobile netting solution which can be set up everywhere & very quickly.
NAUTIC GATE was created and starts introducing Buoys for Jet Surf & Boat Racing.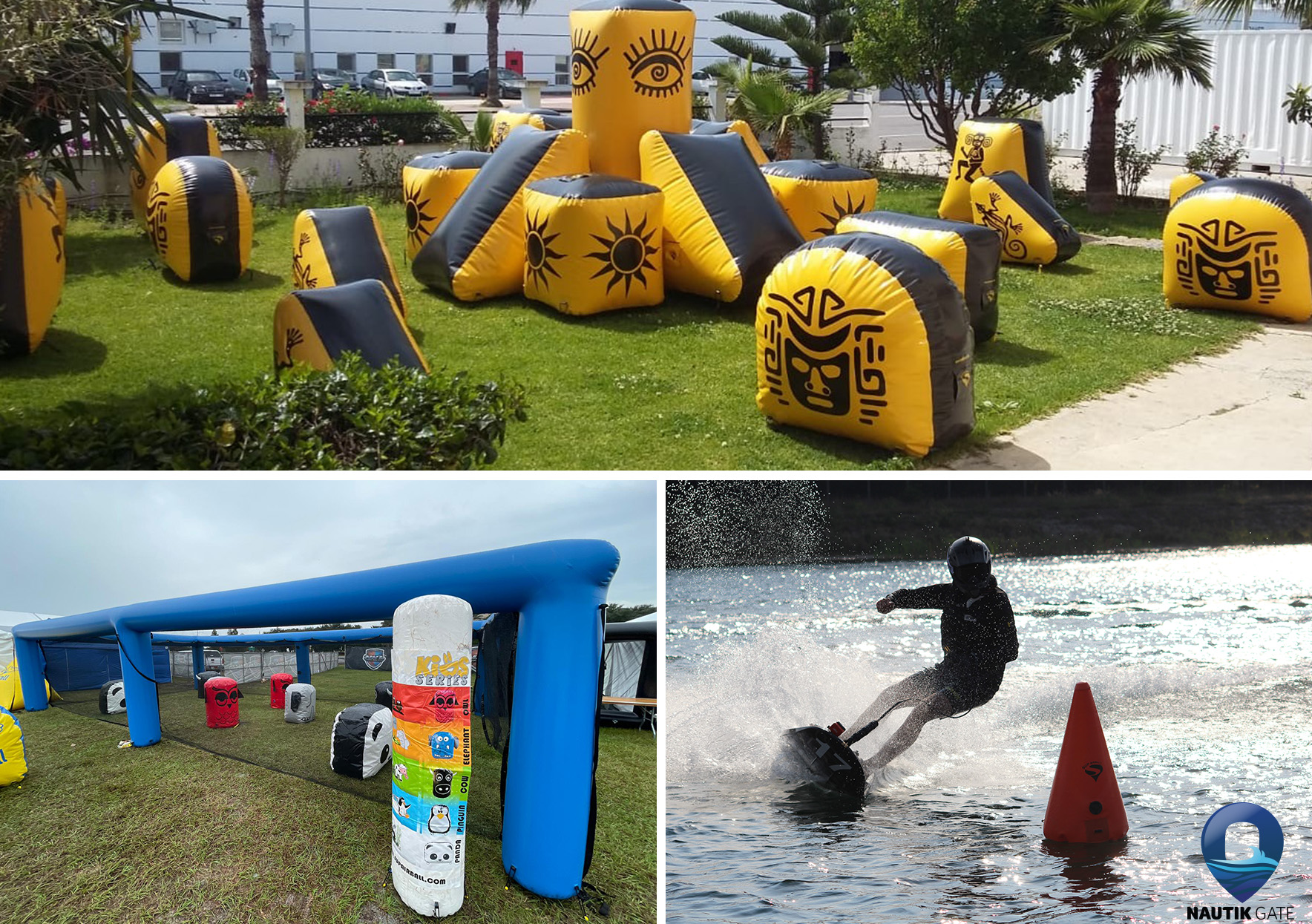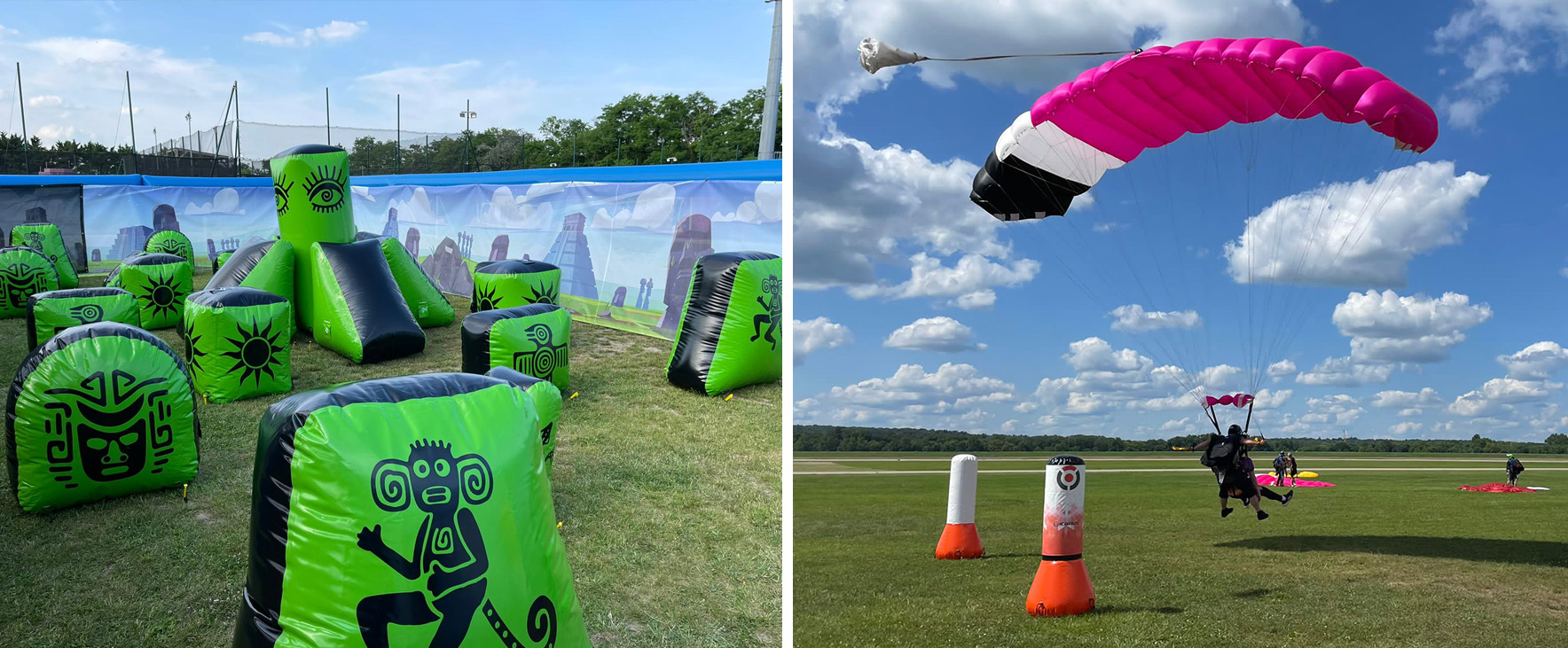 2021: SUPAIR KIDS PARK & SKYDIVE GATE
– SKYDIVE GATE, Inflatable buoys & identifiers designed with saefty and competition in mind.
– SUPAIR KIDS PARK, The next revolution for small kids from 3 to 8 years old.
2022: MAZE & ARCHERY WALL
In 2022, ISG have launched:
– THE MAZE, a perfect product for fun center, fairs, festivals, parks, school, rental companies…
– ARCHERY WALL: A revolutionary inflatable WALL to capture arrows.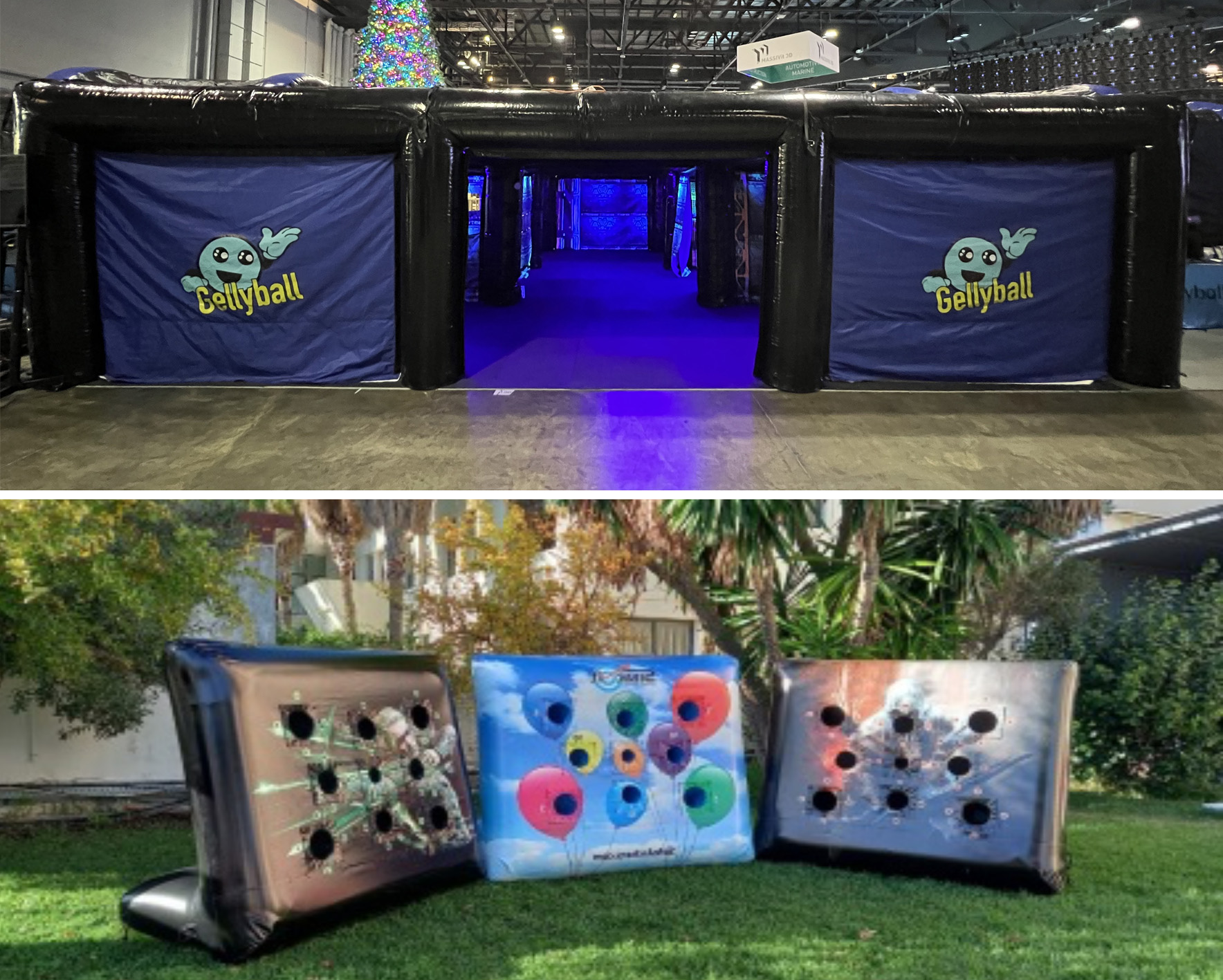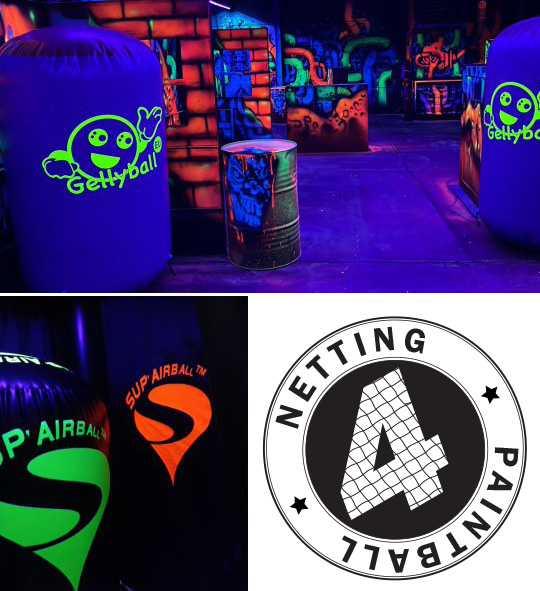 2023: FLUORESCENT PRODUCTS & NEETING 4 PAINTBALL
In 2023 ISG is launching:
– FLUORESCENT PRODUCTS
– NEETING 4 PAINTBALL
2024: TACTICAL TRAINING WALL & INFLATABLE VEHICULES
in 2024 ISG will introduce INFLATABLE TACTICAL with tanks, vehicules and new training Wall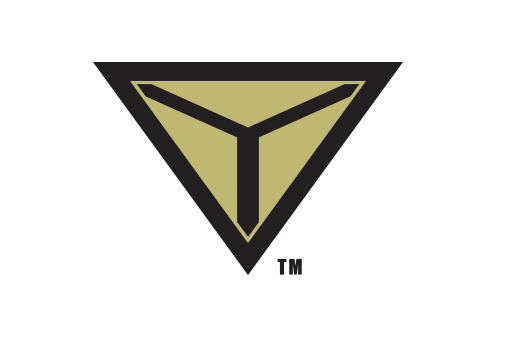 At Inflatable Solutions Group, Passion meets innovation.
Subscribe To The Newsletter
BE NOTIFIED ABOUT OUR NEWS & PRODUCTS